Usually on Thursdays I am updating you all on my weight loss. And while I have lost 1 pound this week ( FINALLY!!!!) I have something that has been on my mind more that I need to share.
Throughout this week the constant thought of "I am so thankful for..." has run through my mind constantly. I have been blessed beyond measure and I am SO thankful for everyone and everything in my life.
Since I have been so thankful and since Carina has this link-up going on, I thought I would share with you all what I am so thankful for.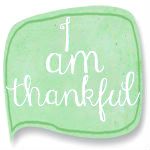 I am thankful for my parents who are beyond supportive of me and my dreams. I was on the phone with my Dad the other day and we were talking about grad schools for me. The fact that he desires to help me make the best decision is amazing. But the fact that he said him and Mom would support me in whatever decision I made was even better. I am so thankful to have parents like that!
I am thankful for a roommate who leaves me sweet sweet notes...all the time! They mean so much to me. Who doesn't love being told they are loved?!
I am thankful for a friend who is honest in telling me she wants be to stay around here! I am so grateful for the time I have with Lo every week, and just knowing my friends genuinely want me around warms my heart every time.
I am thankful to have a job in the office I do on campus. My boss is amazing, the people I work with are amazing, and I actually kinda like what I am doing.
I am thankful to be at Milligan. For one have you seen our campus? Gorgeous. For two I know I am receiving the right education. And three I am surrounded by God loving people.
And last, but certainly not least, I am thankful for the God I serve. He is amazing. No words can describe how thankful I am to know that I have a loving God who wants the best for me.
What are you thankful for today?