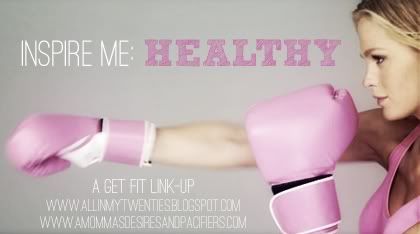 Oh another week and another time to link-up with Kristen and Raven! I know I say this every week, but I really love this link-up! I love that I am held accountable by it, and that I get inspired from everyone else who links up!
So this week....Yeah. Well I guess since I lost 4 lbs last week, I was due for a slower week. I only lost 1 pound but um hello that means

I HAVE LOST 20 POUNDS!!!!!!
Yup I am pretty proud of that number right there. I am right around the 3 months of working on this whole thing, and 20 pounds is right where I needed to be!
Oh and since that was another 5 pounds, here are some pictures so that you can see my progress. Each time I take these I think there really isn't going to be much of a change. But I am always surprised to see that there really is! And when you can actually see the weight loss, it makes it even better!
P.S. The bra I was wearing in this weeks pictures is kinda tight so it added a little unneeded pushup.
191-186
Not too drastic and I think I was wearing different pants. But overall I am VERY pleased!
191-186
206-186
When I look at these two picture of from where I started to where I am now I just cannot believe it. For one I cannot believe I was ever that big. And two man am I looking good!
206-186
I have been doing the same old thing I always do. Lot's of working out and watching what I am eating. Yes it has gotten a tad bit easier being here at school and not at home with Sherry. But I really do miss working out with her. She is so good at distracting my mind from what we are doing. And it is always nice to have that support! Man can I not wait to see her in November!
And now because I am also REALLY needing it I will leave all of you lovelies with some awesome inspiration!
A little treat here and there never hurt anyone!