Have you ever played this game with your friends? Maybe while drinking a little drink? I may not have played many times, but boy do I remember the times I have. You learn so much about people when you play this little game!
I am linking-up today with Nadine from Back East Blonde and sharing some things I have never done!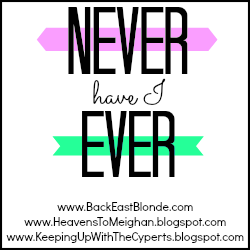 Never Have I Ever... gotten in a car accident or gotten a ticket (knock on wood). Of all the kids in my family I am the one everyone would have thought would be the first to do both. But almost 6 years later I have yet to do either!
Never Have I Ever...died my hairs. Nope not a one. My first reason was my Mom never let me. Then as I got older and could make those decisions on my own I never wanted too. I love my color and have no clue what I would do to change it. Plus I hate the upkeep of died hairs.
Me circa 2006. Same hair color then as now!
Never Have I Ever...watched the Lord of the Rings. But I kinda really want to. When they first came out that was so not my thing. But I think I might try them out again.
Never Have I Ever... broken a bone. I seriously sprained my ankle at camp two summer ago but that is the worst of it. And as clumsy as I am I am surprised I have yet to do this.
Never Have I Ever... been to a club. Dancing and drunks are just not my scene. I have been invited but just never go. I'm a stay home and watch a movie type.
Never Have I Ever... been to prom. Remember above when I said dancing and drunks are not my thing? Yup. I was going to go my senior year, but my plans fell through. I had a dress and everything too.
I wore the dress to my Cotillion Ball
So did you learn some more about me? Hope so! Are there some things you have never ever done?