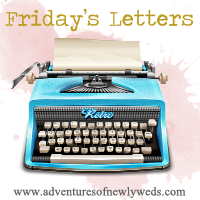 Could I be any happier that this Friday has come? No, I don't think so! I am so happy that I only have one shift at work tonight and then I am done until Tuesday...that is unless I get called in.
Hopefully this weekend is going to be pretty low key. Maybe a little shopping. And most definitely a lot of sleeping. As you all are very well aware of, I don't have many friends here so we all know I will not be going cray cray this weekend...or anytime soon for that matter!
Well onto Friday's Letters!
Dear Kids at Work, I do not have a kid. No I do not want a kid anytime soon. Please stop asking/telling me I need one. Husband comes first...and he is no where near!
Dear Netflix, Being able to watch you while I workout is the only thing that keeps me going. Thanks for distracting me.
Dear Pinterest
, Thank you for these great laughs, I really needed it!
Ok friends that is all I have for you today:) Happy Friday and Happy Weekend!!!