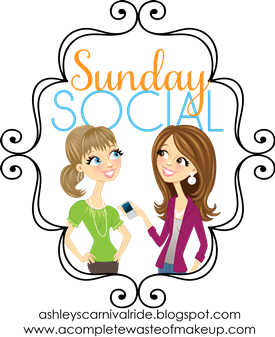 Another Sunday Social linkup with Neely and Ashley!! Loving the TV Edition
What is your favorite TV show of the past?
Saved By the Bell wins by far! But it has to be the older years. Middle school years not so much a fan! But I just remember waking up at 7 a.m. because that was when it was on for us...and yes I was probably watching reruns, but I still loved it!
What is your current favorite TV show?
Grey's Anatomy baby!!! Pretty sure the besties and I practically live for this show! I do not know what we will do if it ever goes off the air!
Which r

eality show

would you NEVER do?
The Bachelor/Bachelorette. Let's be serious who wants their boyfriend to be dating 15 other girls at one time? And who really can make the right decision that fast?! Not me. Aint gonna happen! (no matter how desperate I get)
Which reality show would you LOVE to do?
I am totes all game for The Amazing Race. Anyone want to join me?! How awesome would it be to travel all over the world?! Lets go people!!!
What is the TV personality/character that you feel is most like you?
Yeah no clue about this one. Any suggestions?!
Which TV character would you want to date?
Hmmm well let's see as much as I would not want to be on the Bachelorette... I could totes go for dating Jef. Yeah I think he would do ;)
Hope everyone has a great Sunday:)