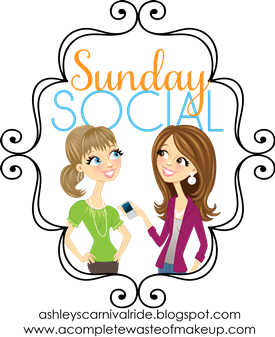 Linking up with Ashley and Neely today for some awesome Fashion Sunday Social!
What is your favorite store to shop at?
I love love love Ann Taylor Loft. Seriously best store ever! I am almost always able to find something cute there and it is all the epitome of my style.
If you could afford anything and everything, which designer brand would you covet?
Michael Kors all the way. I love his clothes, shoes, and all accessories! I so wish I could buy more of his brand!
I own this little lovely and LOVE it to death!
Must have closet staple?
Black Cardigan and jeans. These plus a white t-shir, a colorful scarf and a hair bow are always my go to pieces. I don't know what I would do without them!
Favorite kind of shoes? (brand or type)
I love black flats. I like shoes that go with everything and since I pretty much wear black all the time I need these. That and going to school in Tennessee means colder weather sometimes so flats are always apropro for me!
Best clothing deal you've ever gotten? (sale or amazing find)
Hmmm probs anything I have gotten from Loft. I rarely if ever buy anything that is not on the Sale rack there. And even on the Sale rack I make sure it is priced wayyyy down!
Style you'd love to try?
OK so I know this one has been around for like....ever. But I would love to get to a point to wear I can wear cute skirts with the shirt tucked in. Very simple. But I have never felt that that look has looked good on me due to my weight. But soon I will do it!
Maybe not as high waisted...but you get the point!