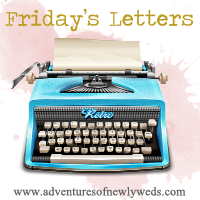 So I found this new Linkup and I am so excited about it!
Dear Diet, I know you are good for me and I know I am going to lose weight, but I don't like that I don't get to eat the same meals as the fam. I feel kinda left out:( But I am going to stick with you because I really need to get healthy!
Dear Work, I have seen a lot more of you this week then I was suppose to. But thats ok, I really like you a lot. The kids are great, the staff are great, and I am loving having something to do with my time!
Dear Sleep, We really need to work on you. I hate this not going to bed till after 12, waking up several times in the night, and then not being able to sleep past 6:30. Things really need to change really fast.
Dear Left Shoulder, You are about to get chopped! Literally. As much as I am stressed and nervous about the surgery, I am looking forward to no longer being in pain.
Dear Long Weekend, I am so happy I get to spend this weekend down at the beach. Sun is always a good thing, and I get to work on my tan!
Dear Friends, I am really missing you guys. I forget sometimes how much having you always there means to me. This whole 12 hours apart is so not nice. Senior year is going to ROCK with all of y'all!