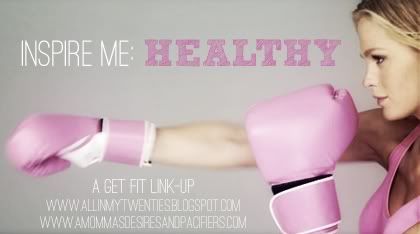 So I know Kristen and Raven talked about changing up this series a little bit, and I cannot wait to see where it goes, but for me I am hoping to keep it right here at getting healthy. This is such a huge part of my life right now and a journey that is still full steam ahead.
While I am still working really hard to lose weight I am starting to see school get in the way. I have had a test, papers, and lots of reading to do. And staying up late to study does not encourage me to get up and workout.

This week I have not lost anymore weight, but I have not gained. Gotta look on the bright side of it all friends! I am totally 100% pleased with myself for maintaing.
Since I have been sitting here at this weight for the past two weeks, I have been trying to come up with a way to motivate me some more and lose more weight. I think I may have found a solution.
Carina
posted on her blog the other day about a Biggest Loser competition. If all 50 people sign up, then the first place winner receives $650 and second place $350. Why in the world would I not jump in on this action? So friends this is my new goal. Win me some money so I can finally buy some new clothes!
So now I am trying to figure out how to still get a workout in, without waking up at 3 am, and still sleep, study, and make it to class. It is not easy but I have to make it work. And I will. Any tips for how to make this happen? I need all the help I can get!